1060 Aluminum Coil|1060 h18 mirror aluminum coil price|China 1060 embossed alu coil manufacturers factory
1060 aluminum coil,temper: H14 H18 H24 O ect,1060 Aluminum coil manufacturers-Huawei aluminum Co., LTD with 17 years Experience professional 1060 h18 mirror aluminum coil Manufacturers and Suppliers.Best price and best service always for you!
1060 aluminum Coil for the industrial aluminum, aluminum content (mass fraction) of 99.60%, not heat treatment to strengthen. Pure aluminum surface is silvery white, its density decreases with increasing purity or temperature. 1060 aluminum production process is relatively simple, relatively mature technology, the price relative to other high-grade aluminum alloy to be much cheaper.
1060 aluminum coil has a high plasticity, corrosion resistance, electrical conductivity and thermal conductivity, but the strength is low, heat treatment can not be enhanced machinability is not good; gas welding, hydrogen atomic welding and contact welding, not easy to braze; Processing and extension, bending.
1060 ALUMINUM COIL CHEMICAL COMPOSITION:

1060 ALUMINUM COIL MECHANICAL PROPERTIES: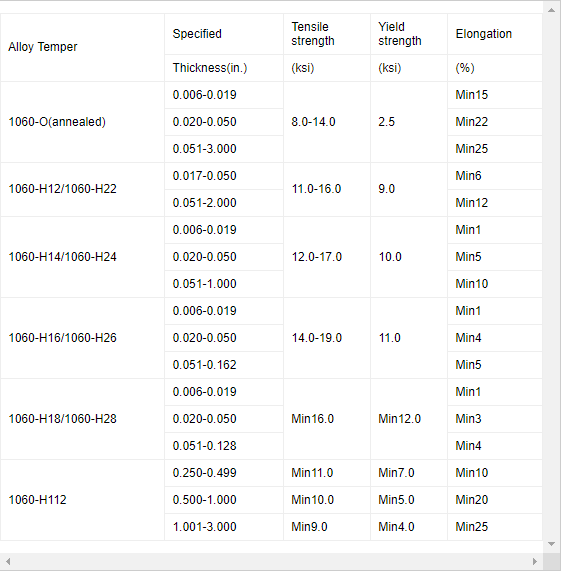 1060 ALUMINUM COIL APPLICATION:
1060 aluminum coil has good corrosion resistance as well as poor machine-ability, and its machine-ability can be improved in harder (cold working) tempers, such as H16 and H18. For its features above, 1060 aluminum coil has a vast application, such as electric and chemical equipment, railroad tank cars, etc.
RELEVANT GRADE OF 1060 ALUMINUM COIL